Yeung's FIBERTECH pipeline rehabilitation experts are working with municipal clients to meet their pipeline maintenance needs. Rehabilitation is a proven approach to extending the service life of pipelines with a significantly reduced impact over replacement.
Municipalities across the world are experiencing challenges in maintaining aging infrastructure and keeping infrastructure in a state of good repair. This challenge is made more critical as urbanization continues to intensify and the strain on our infrastructure grows. The current replacement rate in many municipalities would require water and sewer infrastructure to remain in place far beyond their expected service life, resulting in decreased capacity, leakage and quality concerns.
Pipeline rehabilitation can help extend the life of existing infrastructure at a reduced cost with minimal disruption to communities. Most of all, the volume of pipeline rehabilitation that can be delivered annually far exceeds that of traditional approaches, such as the replacement of these assets.
Our specialists understand the complexity and subtleties associated with pipeline rehabilitation projects. In order to support our clients throughout their project lifecycle, from studies to contracting to expertise, Yeung's FIBERTECH offers innovative solutions tailored to the needs of our clients, utilizing a wealth of Hong Kong, China and international expertise in all aspects of condition assessment and rehabilitation.
Large Diameter Pipeline Rehabilitation
Municipalities depend greatly on large diameter pipelines to service their communities. When these pipes fail catastrophically, significant damage can be caused, resulting in prolonged service outages and costly repairs. As such, the protection of these assets if of the utmost importance.
In a complex rehabilitation project, Yeung's worked closely with several municipalities to renew a trunk watermain which extended from the Hong Kong.
Condition Assessment
The use of condition assessments and feasibility studies can ensure that the timing and method of rehabilitation is closely evaluated prior to implementation. By ensuring appropriate and timely intervention, municipalities can ensure that the maximum reward for their expenditure is realized.
By evaluating the environmental, economic, and technical aspects of each alternative, Hong Kong was able to renew these assets through a cost-effective and efficient approach while accommodating various project complexities.
Program Delivery
Since 2000, the team at Yeung's has been responsible for the design, program management, and contract administration on pipe rehabilitation.
Innovations realized through this program include:
Development of a thorough Quality Assurance and Quality Control procedure for pipeline rehabilitation, which has since been used on various local and international projects.
Implementation of the Specialist Representative role, to ensure clear and consistent communication with project stakeholders.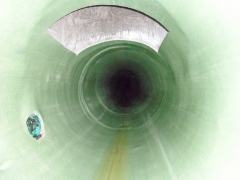 Fiberglass-reinforced lining can significantly improve rehabilitation projects on these pipes.
Fiberglass Pipeline Rehabilitation
New-and-improved materials and technologies are part of the reason the drain cleaning and plumbing industry is so exciting. These advancements provide countless options for contractors to complete stronger and longer-lasting lining and rehabilitation jobs.
Fiberglass-reinforced lining, for instance, is a newer product and is ideal for non-circular structural relining jobs. Odd-shaped pipes can lose a lot of strength, and this type of lining can significantly improve rehabilitation projects.
Some time ago we were asked to provide a product that would reinforce a trunk main at a major airport. If the pipe failed, the entire airport would be shut down. We locked fiberglass-reinforced panels together, and then grouted to form a monolithic installation with the host pipe.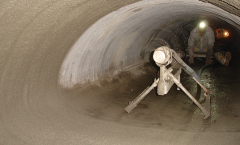 Resin spray with chopped glassfibre in progress
Today, that robust sewer looks the very same as it did on the final day of installation several years ago.
As more of the nation's aging pipes and culverts need to be relined, contractors are embracing fiberglass-reinforced lining to add significant strength to pipelines, and not at the cost of major cross sectional diameter loss. Fiberglass-reinforced plastic products combined with the latest UV-cured liners on the market today strengthen pipeline rehabilitation jobs.
Fiberglass-reinforced lining might add about 10 percent to the cost of a job, but it increases overall pipe strength when compared to conventional liners. These self-contained, waterless UV systems mean no material contamination to waterways from the lining process. This thin-walled, high-strength lining option takes stormwater pipe and culvert rehabilitation jobs to the next level.
Fiberglass-reinforced lining has also been advantageous in the development of certain portions of lateral liners. Resins and material create stronger liners, but in most cases, the resin provides the bulk of the strength. When glass is added, the liner becomes more rigid, creating more consistent strength and durability.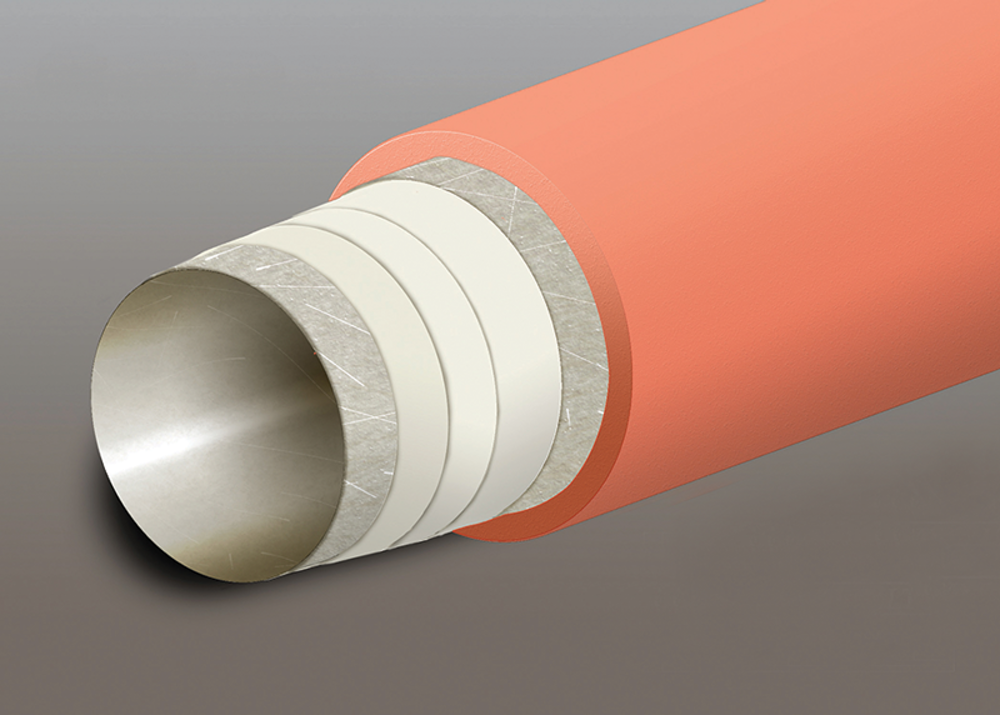 Typical Cross Section of Fiberglass Rehabilitation Project
Using glass to reinforce the portion of liner where the lateral meets the main ensures the reinforced junction connection will hold the hydrophilic seal in place and prevent leaking, even if the liner comes unglued from the host pipe.
Fiberglass-reinforced products create an added layer of protection for lining systems, and they offer many other benefits:
Higher strength and greater resistance to outside forces
Significant environmental advantages with reinforced UV cured systems
Reduced diameter loss in certain applications
Longevity of various repair systems
Secure non-circular structures